Fully Human 7: Gethsemane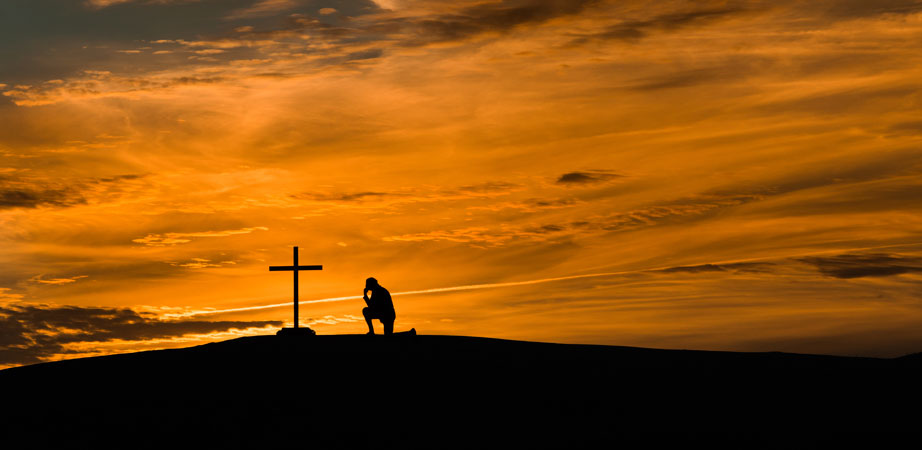 There are a few people in my life who I absolutely love being around because, no matter how difficult things get, they always reassure me that everything is going to be OK. They are like my own personal team of heroes who save the day merely by their presence, smile, laughter, or voice. However, I can recall many times when those people, whom I look to for comfort and reassurance, are themselves on the verge of breaking down, and I remember thinking: 'if he/she is breaking down, am I going to be OK?'
If the person to whom we look for reassurance and strength is barely holding things together, then what does that say about those of us who depend on that person? Shockingly, I think Jesus' disciples experienced the same thing.
After a few years of ministry, Jesus arrived at Jerusalem with his disciples. It is impossible to know how much Jesus knew about his future, but he clearly had an awareness that he would suffer and die in Jerusalem, be raised three days later, and that this would ransom many people from bondage into freedom.
A few days after arriving to Jerusalem, he gathered with his disciples for one last dinner: a Jewish Passover meal. The Passover was an annual dinner-celebration meant to remind the Jews about how God had freed them from slavery in Egypt by sending an angel of death to kill the first-born sons there; and about how the first-born sons of the Jews were spared by having their parents kill an unblemished lamb and smear the blood of the lamb on their doorposts. That way the angel of death would pass over the houses of the Jews and not harm any of their sons. Drawing from these shared Jewish images, Jesus began to explain to them that the Passover they were about to celebrate would be different because it would be his own blood that would be poured out on their behalf.
After eating they walked over to the Mount of Olives where Jesus announced to them that their shepherd was about to be struck down and that they would all fall away and scatter. Peter objected to this and insisted he would remain faithful, but Jesus responded by announcing in front of everyone that Peter would disown him three times before the night was over. After this, Jesus headed to a nearby garden called 'Gethsemane.'
Upon arriving at the garden of Gethsemane, Jesus wanted to get away to pray so he took with him Peter, James, and John, and left the other disciples behind. Matthew describes the scene: "He began to be sorrowful and troubled. Then he said to them: 'my soul is overwhelmed with sorrow to the point of death. Stay here and keep watch with me.' Going a little farther, he fell with his face to the ground and prayed, 'My Father, if it is possible, may this cup be taken from me. Yet not as I will, but as you will.'…He went away a second time and prayed, 'My Father, if it is not possible for this cup to be taken away unless I drink it, may your will be done (Mt 26:36-42)."
What stands out to me first is the depth and authenticity of Jesus' anguish, fear, and sorrow. He describes himself as "overwhelmed with sorrow to the point of death (Mt 26:38);" and Luke says Jesus was so anguished that "his sweat was like drops of blood (Lk 22:44)." Many people read about the sweat and blood and automatically discredit Luke as inventing fantasies here, but modern medicine has now classified this as Hematidrosis, which is a rare medical condition caused by severe psychological stress. We do not know exactly what Jesus meant by "sorrow to the point of death," but we can be sure that this was no joke. Jesus was not faking. He was doing everything in his power to keep it all together. Maybe that was why he took Peter, James, and John along with him while leaving the other disciples behind: he probably did not want the others to see him like that. Others might have freaked out and panicked, so he took only his closest friends for his own personal comfort. Jesus was absolutely overwhelmed.
The second thing that stands out is how Jesus once again reveals that he does not know everything and must decide if he will trust in the goodness of his Father's will or not. It is obvious from his own words that while he knows a lot about what is going to happen, he does not know everything: "My father, if it is possible, may this cup be taken from me. Yet not as I will, but as you will (Mt 26:39)." The words 'if it is possible' imply that Jesus does not know if what he is about to ask is possible. If it is possible for him to avoid this bitter cup of suffering, he would like to; but if it is not possible, he is willing to deny his own will and submit to his Father's will.
This is stunning because Jesus is being forced, like you and I every day, to face an uncertain future and trust in the goodness of his Father's will, even when it means doing something Jesus himself does not want to do. Maybe Jesus was hoping this would be another Abraham and Isaac story – God tested Abraham by telling him to sacrifice his son, but actually had no intention of letting Abraham go through with it, and intervened in the end by providing a lamb for Abraham to sacrifice. Maybe Jesus hopes his Father will intervene in the end? But this time there will be no intervention; there is no other way. Jesus is the sacrificial lamb. In this story, the son must die.
This aspect of Jesus' human nature should affect the way we view him. We admire war heroes who throw themselves on top of grenades in order to save others, because we know they had to deny their own will for self-preservation in order to do what they did not want to do, so we honor and adore them.
I like to think that this is Jesus throwing himself on top of the grenade to save us. If it was possible to avoid it, he would have liked to; but it was not possible and so he did what he did not want to do. That is love. That is my hero.
How might this change the way you think about the sacrifice and suffering Jesus had to endure in order to set you free?
How will you respond to such a breathtaking demonstration of self-less love?
You need to login in order to like this post: click here