"That' s My Boy!" How God Loves Us (Lent Series Week 2)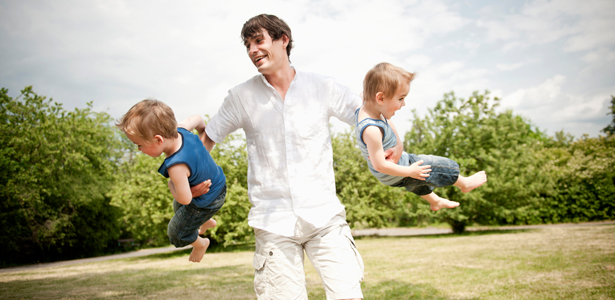 I'm one of three boys, and my father is just as proud to have us as his sons today as he was the day we were born. When we're all together (a rare occasion these days) and one of my brothers or I does something silly, Dad will lovingly and sarcastically quip, "that's my boy!"  It's a phrase he's used, in fun moments and in the most special of moments, for as long as I can remember. We are his boys, and he's very proud of that. I can guarantee that when my dad listens to my younger brother's newly recorded CD, or when he walks into a building designed by my older brother, or when he reads something I write, his smiling lips are still graced by the phrase, "that's my boy."
Besides his declaration of it, my identity as my father's son is recognizable in other ways. My wife has gotten to know my dad a little bit in the three years we've been together, and she will regularly notice our similarities and comment, "you're just like your dad."  In some moments I bear his likeness, but most often I bear his disposition and idiosyncrasies. My brothers and I bear our father's image.
In this passage in Matthew – also recorded in Mark 12 and Luke 20 – the religious leaders are trying to trap Jesus. They live in a Roman-occupied world where all devotion must be given to Caesar, so they attempt to label Jesus as an anarchist – a dangerous person for their time. In one of Jesus' most famous responses, he teaches them that there is the stuff of this world, and the stuff of heaven. Jesus says that Caesar can have the stuff that bears his image, but God will have the stuff that bears his.
"So God created human beings in his own image. In the image of God he created them; male and female he created them."Genesis 1:27
Don't forget what God thinks of you and the reason he sent Jesus to us – the season we celebrate in Lent.  He came because you are his. He came because he loves you. He came because you are his kid, his prize, his masterpiece, his greatest joy, and he will not stand for your separation from him. Out of his love he has made a way. Out of his love he has endured the cross. Out of his pride, joy, passion, and love he calls you his own.
You and I belong to God. The proof is in the image we bear.
He calls us son. He calls us daughter. In our silliest moments and in his most proud moments, he says, "That's my boy!" and "That's my girl!"
"Even before he made the world, God loved us and chose us in Christ to be holy and without fault in his eyes. God decided in advance to adopt us into his own family by bringing us to himself through Jesus Christ. This is what he wanted to do, and it gave him great pleasure." – Ephesians 1:4-5
Reflection
The action of re-writing what we read is proven to help us remember. So, write these verses down and put them in your pocket. Read them several times today and imagine God smiling at you with fatherly pride.
"For we are God's masterpiece…" – Ephesians 2:10a
"He will rejoice over you with songs." – Zephaniah 3:17b
"Your new name will be "The City of God's Delight" and "The Bride of God", for the Lord delights in you and will claim you as his bride." – Isaiah 62:4b
"For the Lord delights in his people." – Psalm 149:4a
Check out another post in our Lenten devotional here.
This was an excerpt from Easter is Coming, a Devotional Journey with Jesus. For all six weeks of Lent devotionals, please download the e-book here.