Reflecting on Jesus' Death on the Cross; Good Friday (Lent Series Week 7)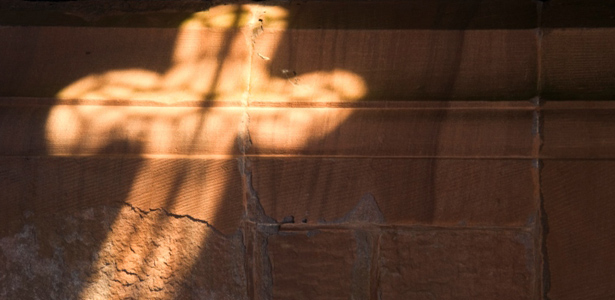 Think back to the beginning of Jesus' life and his Christmas time arrival. I know we're drawing close to Easter, so this might be cause for some Christian holiday confusion, but bear with me. Picture Jesus in the manger. Now think of Mary and Joseph. Can you see them? Now imagine their visitors. Among them were the three wise men. What did they bring? Yes, you remember: gold, frankincense, and myrrh.
This past Advent season my pastor pointed out the significance of these gifts in a way I had never thought of before. Each gift was a meaningful symbol. The first was gold. The substance of kings. A gift fit for the King of Kings. Second was frankincense. Incense burned as a holy aroma by the Priest. A gift fit for the true High Priest. That leaves myrrh. Do you know what myrrh was? Myrrh was an ointment used for burial. It was embalming fluid. It was the same myrrh that Joseph of Arimathea and Nicodemus used 33 years later to bury the crucified Jesus.
Isn't it a bit offensive to bring the scent of death to the celebration of new life? It's a strange gift for a child, right? But Jesus was no ordinary child, and as peculiar as it must have seemed, the myrrh was just as fitting a symbol as the gold and frankincense. Yes, this child of God was King and High Priest, but he was also the Great Sacrifice. He would live for a purpose and he would die for a purpose. This was the plan from the beginning.
God did not defeat death by executive order. He didn't make a call from a distant place for someone else to take care of the hard work for him. He did it himself. 
There's a phrase you may have heard: "You can't win a game you don't play." It's true. It would be strange to claim victory at chess without ever sitting down at a board and moving a pawn. A high school athlete does not receive a trophy for a sport she's never taken the field in. To win something, you must play it. To defeat something, you must battle it. To destroy something, you must face it.
This is why Jesus' death is absolutely necessary. Our sin brings death into the world, making it the end of all our lives and separating us from God. Our rebellion brought about consequences that we cannot remedy on our own, and without any sort of intervention this is how it would have remained. But in his mercy, the God who created us volunteered to enter the game, face the enemy, taste the consequence of our rebellion, and destroy it forever. So he died. Real death. Myrrh was brought to Jesus again, but this time by his friends preparing to lay his cold, lifeless body in a tomb.
Only in a death like ours could he play the game our sin makes us play. Only in defeat was he able to bring victory. Only with a Good Friday do we get an Easter Sunday.
Reflection
It's not comfortable to think or talk about death. But today, let's think about it. You may be afraid of it, you may be ambivalent to it, or you may never think about it. But it is the reality of your sin, and only Jesus has conquered it – forever.
If you are a follower of Christ, spend the day thanking Jesus for defeating our greatest enemy. If you are not – or if you are uncertain – take seriously the reality of death. Remember that death it is only conquered through the work, power, and grace of Jesus Christ. This week, let's look forward to Good Friday with humility and gratitude to God.
Check out the first post in our Lenten devotional here.
This was an excerpt from Easter is Coming, a Devotional Journey with Jesus. For all six weeks of Lent devotionals, please download the e-book here.
Spend some time expressing your gratitude to him – in prayer, song, art, written words – or any way you like.