Marriage Builders: Always and Never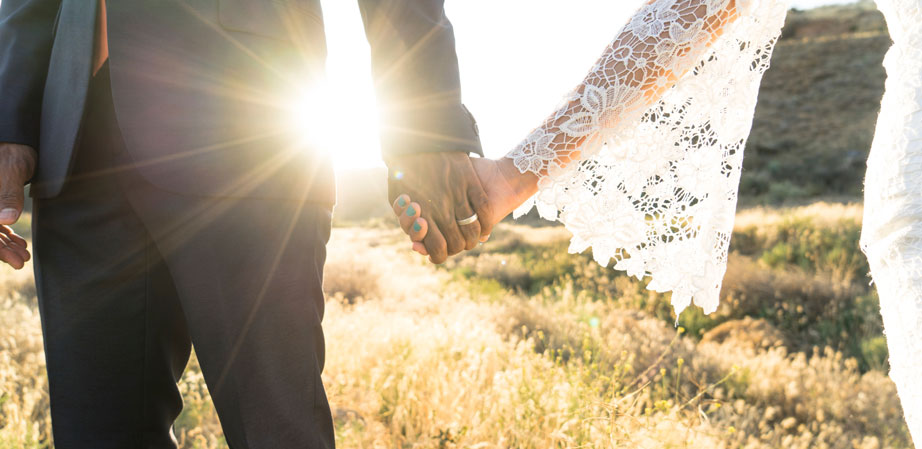 Do not repay anyone evil for evil. Be careful to do what is right in the eyes of everybody. If it is possible, as far as it depends on you, live at peace with everyone. Romans 12:17-18
As we discussed in our last post, the prime key to building a healthy marriage is this: love is reciprocal. The husband loves and the wife responds with respect and honor. We know that no relationship is perfect because people are not perfect, but with God's help and His wisdom, we can work toward building a healthy relationship that gives glory to God and joy to us.
There's an old saying in marriage counseling that we should not use the terms "always" and "never" – they are seen as too abrasive. That might be true in conflict resolution, but here's one way that you can harness these powerful words to work for your relationship, not against it – by using Scripture and God-based wisdom. For instance, check out these "always" and "never" tips from God's Word:
Always place Christ first and foremost in your life, and He will provide and guide (Matthew 6:33).
Always focus on building your faith and maturity first (Matthew 7:3-5).
Always pursue love even in toil as the mark of a true follower of Jesus Christ (1 Corinthians 13:1-13)!
Always grasp on grace and how Christ loves you and your spouse, so you can give grace to them (Galatians 2:20-21)
Always pray together daily (Psalm 127:1; Matthew 18:19).
Always respect and love your spouse (Ephesians 5:1-2)!
Always be encouraging, listening, supporting, accepting, trusting, and respecting with love (Ephesians 4:2).
Always express your love to your spouse daily with attitude, words, deeds, and kind touches (Solomon 8:6-7).
Always forgive mistakes and practice forgiveness (Colossians 3:13).
Never be arrogant, criticizing, threatening, nagging, blaming, complaining, punishing, or bribing (2 Timothy 2:22-24).
Always laugh and have fun together (Proverbs 17:22).
Always say "I'm sorry" (1 John 3:4-6).
Always communicate goodness, ask, don't second guess, thank, praise and listen (Romans 12:19)!
Always put the needs of your spouse ahead of your own (Proverbs 17:9)
Never trust your heart; you can only trust the Lord (Jeremiah 17:9)!
Always be supportive of each other (Ephesians 4:2-3).
Never seek to change your spouse; you can only change yourself (Romans 12:17-18).
Always use words to build up your spouse, not tear him or her down. (Proverbs 25:11).
Always have enjoyable talks every day (Proverbs 27:6).
Never be defensive (Matthew 7:1-5).
Always say "thank you" and "we" (Proverbs 10:12).
Always go on dates, have fun together (Song of Songs 7:11-12).
Never absolutely never give egotism, sarcasm or cynicism (Proverbs 17:4).
Never speak from anger (Ephesians 4:26).
Never ever threaten the relationship (Mark 1:15).
Always Give your spouse at least one compliment every day (Philippians 1:3-6).
Never take your marriage for granted (Colossians 3:23).
Always serve one another in love (Galatians 5:13).
Never talk badly about your spouse to others (James 1:19).
Always look for solutions, not problems (Proverbs 29:20).
Always do all the important things together (Philippians 4:13).
Always seek unbiased godly counsel (Psalm 37:30).
Always discuss outside friendships (like work relationships), never harbor secrets (Galatians 5:13).
Always agree to disagree, you will never agree on everything (1 John 3:18).
Never try to control your spouse (Philippians 2:2).
Never threaten splitting, leaving or divorce (1 Peter 1:22).
Always listen. (John 8:47; James 1:19-25)
Always in all you do seek and glorify the Lord (1 Chronicles 16:11).
Look at how much wisdom the Bible gives for strengthening our marriages! This might be information overload, so feel free to take these tips one verse at a time and return to this post for encouragement as you try to improve.
But remember, even if you feel overwhelmed, God does not call us to do anything that He has not empowered us to do. As you go about your day, meditate on the Scriptures mentioned above and think about the following questions:
Which of these tips do you most need right now in your relationship, and how can you act on it?
How can you encourage your spouse in the things he/she is doing well?
What blocks these traits in your life and relationship?
Check Out The First Article in The Marriage Builder Series