Don't be a Llama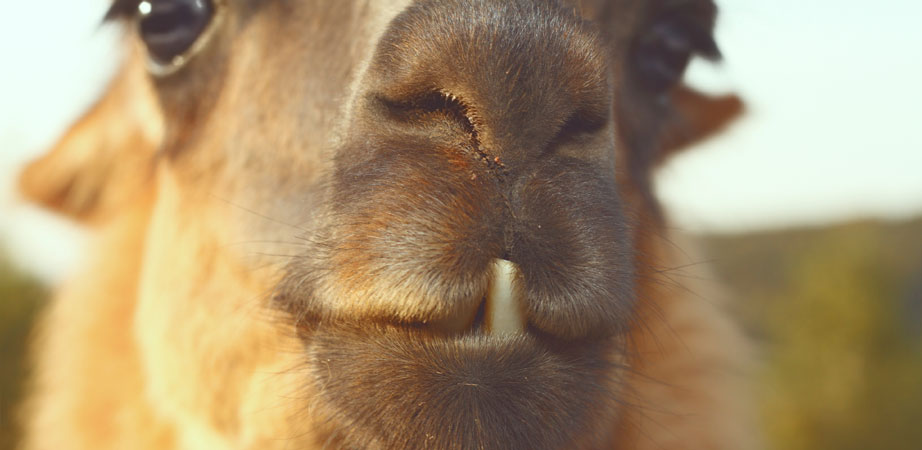 "A new command I give you: Love one another. As I have loved you, so you must love one another."  John 13:34 NIV
This passage came to mind on a day I heard God say to me, "Don't be a Llama, love the one you're with."
Llamas are interesting animals. They are highly social, intelligent and curious. They prefer to live in a herd. However, when they spend too much time with people, they misbehave. They spit, neck-tackle and kick.  The more familiar they get with people, the more they treat people as Llamas. Llamas behave in this way with each other to establish who is the chief of the herd.
Q: How can we be like a Llama?
We behave like Llamas when we get too "familiar" with our family and friends and begin to treat them with disrespect. Have you noticed that you are harder on those you love than on strangers.
A few weeks ago, I was "barking" at my husband for something. The "something" was really not a big deal. Yet his behavior annoyed me so much that I let him have it. On a side note, a man was coming to meet my husband that morning and I had left the front door open for the gentleman to come in. I had forgotten this little fact. Anyway, in the middle of my ranting I felt someone's presence. I turned to confirm my instinct when I noticed him standing there, politely listening to my bashing outburst. Boy, was that embarrassing! What do you think?
Was I behaving like a Llama?
I quickly apologized to my husband, kissed him goodbye and watched them leave the house.  The more I thought about the scene, the more I realized that I should not allow myself to speak to my loved ones in that tone; even if someone is not in the room to catch me. Does it matter? Shouldn't I treat my family with as much respect in private as I would in public? Yes, it matters.
Jesus is always present. One of the roles of the Holy Spirit is to convict us of our sins (John 16:6-11). In my life, I have noticed that He works on one sin at a time (so as not to overwhelm me). That day, He was working on my anger.  "In your anger, do not sin" Eph. 4:26. That day, He taught me not to be like a Llama.
"As obedient children, do not be conformed to the former lusts which were yours in your ignorance, but like the Holy One who called you, be holy yourselves also in all your behavior; because it is written, "You shall be holy, for I am holy." 1 Peter 1:14-16
Thank you Jesus!
Q:  How is God working in your life right now?
© 2012 Ines Franklin
twitter: inesfranklin