Trust the Right One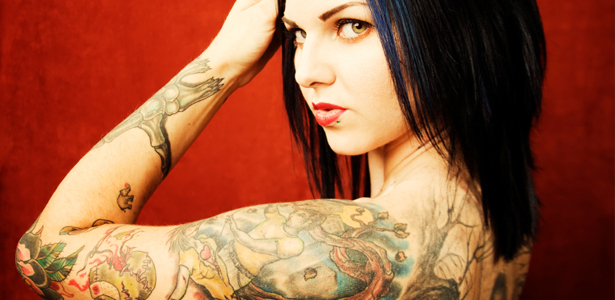 I recently stood behind a lovely young woman while waiting in line at my bank. She was dressed in casual exercise attire and her hair piled high on her head in a cute, messy ponytail. As we both patiently waited our turn, I couldn't help but notice the many parts of her body adorned with tattooed images in bright, colorful ink. Each flower, vine, shape and symbol seemed perfectly placed and I wondered to myself how many of them had a story behind their placement.
I continued to admire the artistry of her many tattoos, and that's when I noticed something on the back of her neck. In elegant black scroll lettering were these three words, "Trust No One."
Without judgment, my heart sank into sadness and familiarity. Sadness, because I knew there must have been an event or series of events responsible for shaping this belief so strongly in her heart. Something made her permanently etch this idea into her flesh as a constant reminder. Familiarity, because even though I may not have a visible tattoo, painful personal experiences as a little girl and young woman contributed to the shape of this same belief in my own life: "Trust No One."
Years ago, this belief was etched deep into the stones of my heart. I demonstrated my lonely belief system through hardness, rebellion and anger. It wasn't until I made the decision to follow Jesus that this began to change. But change didn't happen overnight. It took years, and over those years, the Lord taught me a thing or two about trust.
My mantra began to change to: "Trust the Right One". We must know who deserves our trust. I learned that Jesus was the only one worthy of all of my trust, and so my heart began to move from the painful declaration of "Trust No One" to a life of freedom, knowing that Jesus was the One I could trust.
In Psalm 118:8, King David gives us this fair warning, "It is better to take refuge in the Lord than to trust in humans."
Notice it does not say, "trust no one." Rather, it says that to place your trust in the Lord is better than to place it in man.
Trust is reserved for the Lord because man is born flawed by sin and will lead us astray (Romans 3:23). Even forgiven man is flawed as the renewing and transforming process is ongoing right up until the moment we leave this earth. Man is not perfect enough to fully trust.
I once visited a church where the pastor instructed members not to put their trust in him because at some point he would let them down – not intentionally – but by his very nature as a human. He went on to say that the only one who they could put their trust fully in was God because God is unchanging, unwavering and true.
Webster's Dictionary defines trust as "assured reliance on the character, ability, strength, or truth of someone or something."
God's character, ability, strength and truth are the only things we can have assured reliance on.
Does this mean we should live a life shrouded in mistrust for each other? Absolutely not. God knows we need one other or He would not have created us for relationship and fellowship. But, it does mean we should place our greatest trust in the One who has, by His very nature, earned the right to be trusted. That is God. Trust God first and in turn, He will show you how to trust others.
Dare to live a new statement of belief today by placing your trust in God: "Trust The Right One".
Check out an earlier post by Tammy here.
You need to login in order to like this post: click here