Gathered Under God's Wings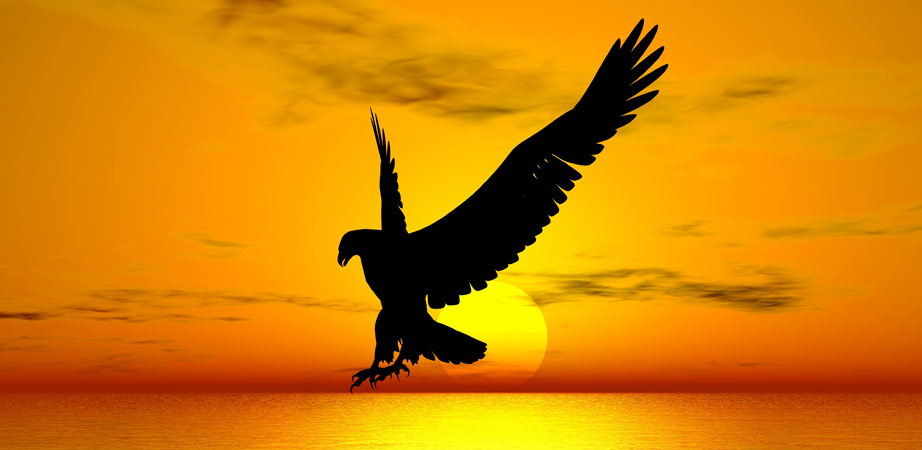 On a dusky evening recently, I watched in fascination while a large flock of pigeons took their final flight before finding a safe place to rest for the night. Around and around they flew, their wings beating out a discordant tune against a darkening sky. They appeared to be on a mission, as they continued circling in unbroken patterns of counterclockwise loops.
Suddenly, out of the blackness, a smaller group of pigeons arrived with calculated swiftness from the left. Without missing their mark, each one fell into formation with the rest. A few moments later, an even smaller group frantically swooped in and inserted themselves into the ring. It was at that very moment the entire flock slowed down momentum and, with the poetic beauty of an arial ballet, landed safely together on the rooftop below. They had become a solid circle of gathered wings.
Watching those pigeons reminded me of the never-ending, always-available protection God provides for our lives. In scripture, the word "wings" is often used as a symbolic term for a protective covering. But a covering is only beneficial as long as we remain under the protection it provides. Step outside of the covering and we are certain to find ourselves suffering at the mercy of the elements – frantic in our search for shelter against the encroaching dark.
In the book of Psalms, King David understood these truths when he found himself hiding out in caves from those whose relentless mission it was to end his life. In spite of his faith in God, he experienced moments of pure misery as terror, isolation and exhaustion became a daily battle in his fight against death. Regardless of these moments, the solitary time he spent with God became a place where he would come to understand his one, true source of protection and strength. David was gathered together with God in those caves and so are we.
We are in God's field of vision at all times.
"Keep me as the apple of your eye; hide me in the shadow of your wings." ~ Psalm 17:8
God preserves our lives with eternal purpose and hope of deliverance.
"You are my hiding place; you preserve me from trouble; you surround me with songs of deliverance." ~ Psalm 32:7 (NIV).
God's ceaseless love for us can be trusted in times of distress and in times of peace.
"How priceless is your unfailing love, O God! People take refuge in the shadow of your wings." ~ Psalm 36:7
The safe covering of God is a long-term plan.
"I long to dwell in your tent forever and take refuge in the shelter of your wings." ~ Psalm 61:4
The presence of God is fully reliable and a fortress which engulfs us completely.
"He will cover you with his feathers, and under his wings you will find refuge; his faithfulness will be your shield and rampart." ~ Psalm 91:4
When we remain close to God, He supplies us with a place of rest from weariness.
"Whoever dwells in the shelter of the Most High will rest in the shadow of the Almighty." ~ Psalm 91:1
We will not escape troubles in our current times. In fact, we live in a decaying world full of expanding evil – murder, persecution, violence, hatred, wars and rumors of wars – to name a few. So, where shall we take refuge in these days? Where can we go when darkness threatens to overtake us? Where does our strength come from when terror, isolation and exhaustion become our daily battle?
It is only under the solid wings of God's covering do we find shelter from the enemy, strength to endure the pursuit and hope in each moment.
When facing troubles, our lives may resemble those smaller groups of pigeons – wings beating in fearful desperation while we try to make it to a place of safety. But have no fear, for God is always present. He never quits. He is always in motion. Just like the large, circling flock of pigeons refusing to land until every straggler made it back, God gives us safety in numbers. We are never alone.
No matter what you might be facing right now – pain, loneliness or despair – God is your one true source of covering. He does not always protect us from experiencing trouble. But, God does provide all we need within the protection of His covering for our lives – moment by moment – until we are finally able to land safely together in His eternal rest.
Check out an earlier post by Tammy here.
You need to login in order to like this post: click here