Fully Human 2: Emptied Out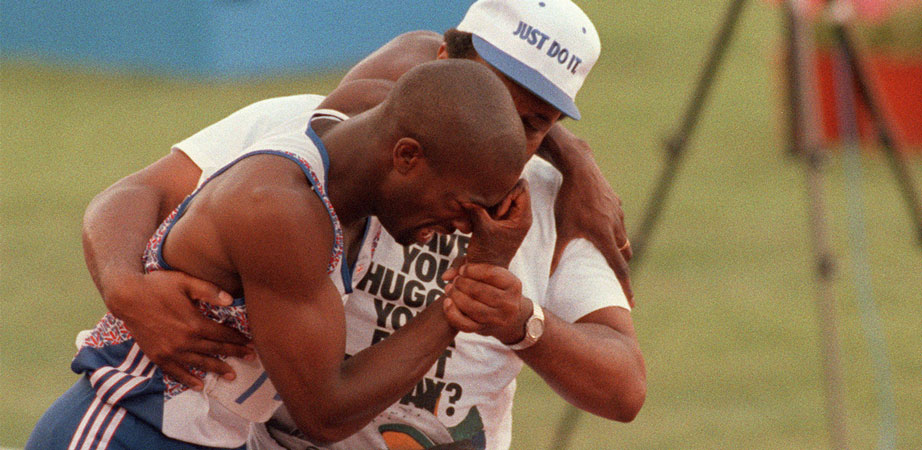 During the 1992 Barcelona Olympics, the world watched what has become one of the greatest moments in sports history.  Favored British sprinter Derek Redmund tore his hamstring and collapses to the ground 1/3 through his race :
The runners leave him behind as he winces in pain, weeps, and tries to hide his tears. He realizes his life's dedication, all his training, his dreams, a lifetime's work, is gone. Done.
Disbelief sets in. He looks around trying to decide what to do. Race officials run to him to help him up but he shrugs them off, stands up on his own, and hobbles slowly like a crippled man around the track.
Crying. Devastated. As the crowd realizes Derek is trying to finish the race, they all rise to their feet to cheer him on. The race is over. The other racers have left the track. But he keeps hobbling. Wincing. Hurting. Confused. Agonized. At the point of collapse.
Then it happens: an older man runs down from the crowd, onto the track and out toward Derek. Derek doesn't see him but the man catches up to him from behind, puts his arm around him, and hugs him. Derek bursts into tears of frustration, pain, agony, and disbelief, and buries his head in his father's embrace. They walk the final 100 meters together. Father and son. Arm in arm.
Derek's father provides the strength to get Derek over the finish line. Derek finishes dead last. But he finishes, because of the help and support of his dad.
I love this story because, according to Paul in Philippians 2:5-11, it's a real-life parallel of what Jesus has done for us. In the race of our lives, things eventually fall apart and we find ourselves broken, hurting, and at times barely able to go on. And it's in these difficult times that Jesus comes down and meets us in the midst of our own brokenness, saying: "Its OK, I've got you. I'll carry you. I'll be your strength. Lean on me."
In Paul's letter to the Philippians, he urges the Philippian believers to live in unity and encourages them to develop the mind and attitude of Christ: (5) 'Have this attitude in yourselves which was also in Christ Jesus, (6) who, although He existed in the form of God, did not regard equality with God a thing to be grasped, (7) but emptied Himself, taking the form of a bond-servant, and being made in the likeness of men. (8) Being found in appearance as a man, He humbled Himself by becoming obedient to the point of death, even death on a cross…' (Phil 2:5-8, NASB).
A few things stand out: Paul says in v.6 that while Jesus existed in the form of God, He didn't value His status or position ('equality with God') so much that He wasn't willing to let them go. What does Paul mean by that? That while Jesus had existed before as God, and therefore would've been totally justified if He had wanted to remain God in that exalted state with all His glory, majesty, authority, rank, and power, amazingly He didn't value those things so much that He wasn't willing to let them go; which is what Paul says He did.
But for me the most shocking and surprising thing comes in v.7-8 when Paul says Jesus 'emptied Himself…humbled Himself.' This was no accident. No fluke. Jesus emptied and humbled…Himself. On purpose. An act of the will. Thought-out. Pre-meditated. To the point of death.
What does it mean to say that Jesus 'emptied Himself?' There are lots possibilities but one view I hold is that He emptied Himself not of His divinity but of His glory, majesty, and exalted status and position, including even His power and knowledge. This is why I have no problem saying that the man Jesus was not all-knowing or all-powerful, as the gospels clearly teach (See: 'Fully Human 1'); and Paul explains in these very verses how this is possible theologically. The Almighty, All-knowing God chose to become a vulnerable, weak, fully-dependent newborn, who didn't even know how to walk, talk, or do math!
Now why on earth would Jesus have chosen to do this? Simply put: love. A love for humanity that's so intense it's shocking. What else but intense love could motivate someone to willingly set aside glory, majesty, honor, exaltation, power, knowledge, and authority, in order to empty himself and endure rejection, loneliness, shame, insults, attacks, betrayal, weakness, fear, suffering, beatings, torture, and execution? And if He was willing to go to such lengths for you and I, how else could we possibly respond but by thanking, admiring, loving, and serving Him in return?
Now when I feel prideful or above doing certain things, I try to remember that if anyone had the right not to humble Himself, it was Jesus; but He laid down that right. So if I claim to be a 'follower (disciple) of Jesus' then how could I not be willing to empty and humble myself, on behalf of this broken world, like He did? Because if I claim to be a 'follower of Jesus' but don't actually 'follow' Jesus, then I'm just a hypocrite.
Q. How might God be calling you to empty and humble yourself? How might He be calling you to follow the example of Derek's dad: who left his comfortable and posh stadium-seats in order to lower himself down to the level of his son who was broken, hurting, and in need of help?
Q. What hinders you from following His call?
For the entire Fully Human series click here.
You need to login in order to like this post: click here