Following Jesus in our Daily Lives (Take Five)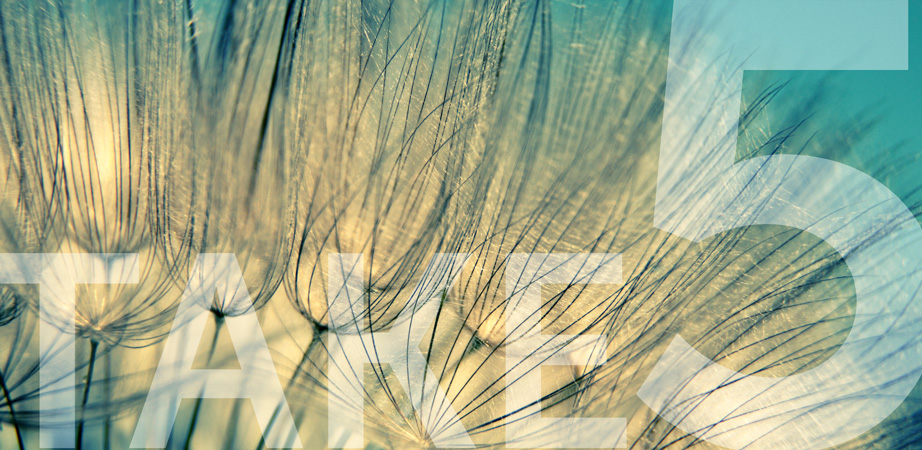 Every Friday, we round up five of our favorite items – photos, videos, articles, quotes and blog-posts – in the hopes that you will be as encouraged and inspired by them as we are.
This week we are talking about how we grow in our daily walk with Christ, and how everything we do – from our creative endeavors, to our professions, to our view of the world – is governed and guided by following Jesus. Take some time today to think about how your daily acts, words, work and thoughts are governed (or not) by God's love and guidance.
---
God's Love Letter to Artists
In this blog-post, author and speaker Jon Acuff shows us encouragement from the Old Testament as he pursues a creative career:
"Here is what Exodus 31:3 says:
'and I have filled him (Bezalel) with the Spirit of God, with skill, ability and knowledge in all kinds of crafts- to make artistic designs for work in gold, silver and bronze, to cut and set stones, to work in wood, and to engage in all kinds of craftsmanship.'
This is not a cold, boring, vanilla God speaking. This is the first and ultimate patron of the arts sounding a gong for anyone that has a scrap of creativity in them. But I said this love letter to artists has two parts.." Finish reading here.
---
Innovation, Change, and Economic Growth: A Christian Economist's Perspective
Dr Anne Bradley writes: "I've been a Christian most of my life, and scripture has always been a part of that walk. I have been a trained economist for a shorter period of my life. Reading scripture as both a Christian and an economist, I am often struck by what I learn." Finish reading here. 
How do you see pieces of your profession spoken about in Scripture? How does that encourage you?
---
Bearing Fruit: A Crucial Part of Spiritual Growth
We've been talking about the Fruit of the Spirit here on Trochia, so this post was a great encouragement to keep pursuing that fruit: "…the Bible's main metaphor for accomplishment is producing fruit. God compares His people with fruit trees that must "bear much fruit" (John 15:5,8). We must continue to grow and bear fruit until the end of our lives." Finish reading here. 
---
In this video, Compassion International asks a sampling of their sponsor kids what they would ask God, if he sat down beside them. Their questions are a beautiful mix of endearing, heartbreaking and sweet, and remind us of the beauty of simple faith, and inviting Christ into our day-to-day as these young ones do. 
---
My Take: Snap out of spiritual slump with Lent
Last year, Pastor Mark Batterson wrote this piece about why he practices Lent, and how it informs his daily walk with Christ. As we near the last weeks of the Lenten season, it is worth a read:
"In my experience, giving something up for Lent has made the Easter celebration far more meaningful and even helped me develop the spiritual discipline of fasting. Fasting during Lent has helped me identify with the sacrifices Christ has made for me, and it's also helped me focus on the reason for the season. The celebration of the resurrection of Christ has become far more meaningful since I started observing Lent." Finish reading here.
Check out an earlier post in our weekly series here.
You need to login in order to like this post: click here